A funeral is the first step in the healing process and the act of attending a funeral benefits the family and the community.
It helps the bereaved to understand the reality of death while providing family members and friends with a caring and supportive environment. It allows them a safe haven to express and share their grief, whilst saying goodbye to their loved ones.
We are here to arrange and carry out the funeral, to ease the bereavement process. We will listen, advise and act on your behalf. Through discussion with the family, we offer guidance whilst helping to arrange and create a fitting tribute to the life of your loved one. On the day of the funeral, we will ensure that everything is carried out in an efficient and dignified manner.
Nowadays people have different funeral requirements, we always try to fulfil every families wish.
Traditional funerals used to be from the deceased home/church to the graveyard/cemetery, but now an increasing number of families use our funeral homes. This may be used for a wake, the service of thanks giving or it can be where the deceased rests until they are taken to the church before the burial.
Funerals can be conducted from our two rest rooms, either in Omagh or Castlederg.
Choosing a coffin is a personal choice and we are here to assist you in making the right choice. We have a selection of coffins & caskets you can choose from.
We work with Golden Charter Funeral Plans for those that wish to arrange or pay for a funeral in advance.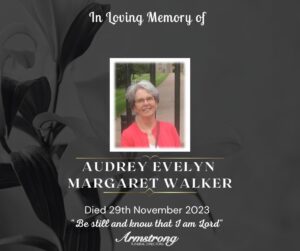 Death Notices
WALKER, (née CONNELL)  AUDREY EVELYN MARGARET Peacefully surrounded by her family at her late home, 17 Backfarm Road, Omagh. Dearly beloved wife of Basil, a
Read More »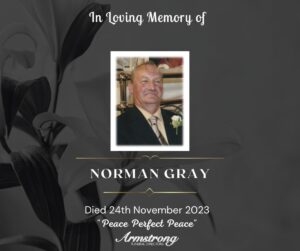 Death Notices
GRAY,  NORMAN Peacefully at Altnagelvin Hospital and late of 60 Learmore Road, Killen, Castlederg and formerly of 96 Glencam Road, Omagh. Dearly beloved son of
Read More »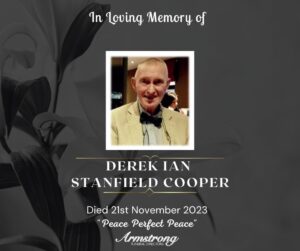 Death Notices
COOPER,  DEREK IAN STANFIELD Peacefully at Altnagelvin Hospital and late of 3 Crevenagh Downs, Omagh. Dearly beloved husband of Lorna, a devoted stepfather of Darren
Read More »
Professional and Dignified Funeral service and personalised memorials to leave a lasting memory of your loved one.
Feel free to contact us with any questions, comments, or enquiries and we'll get back to you at our earliest convenience.