After the funeral has taken place of your loved one, you will find that there are many things left to do.
The following list includes examples of people to inform about the death and of documents and equipment that may have to be amended or returned:
It is not a comprehensive list covering everyone's individual circumstances.
A death which occurs in Northern Ireland can be registered in any District Registration Office and should be registered within five working days. This is with the exception of deaths which have been referred to the coroner. When registering a death, you will need to take the medical certificate of the cause of death to the Registrar who will ask you for the relevant details for the deceased.
Once the registration is complete, the registar will issue the following forms:
For GR0 21 giving permission for the body to be buried or for an application for cremation to be made.

Form 36/BD8, a certificate of Registration of death issued for social security purposes, if the deceased received a State pension or benefits.
There is no cost for registering a death. The only cost will be for Certified Copies of Entry, if required. You'll be able to purchase Certified Copies of Entry at this time. These will be needed by the executor or administrator when sorting out the deceased person's affairs.
You may also like to put the death in the local paper if this has not already been done.
Choosing a final resting place, whether for a loved one or for yourself, is an important decision. Once that decision is made, a special monument to mark that space is one of the most personal and unique ways to commemorate an individual, couple or family. A memorial can be as simple or elaborate as you wish.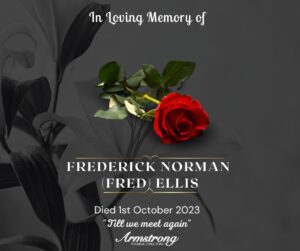 Death Notices
ELLIS, October 1st, 2023 FREDERICK NORMAN (FRED) Peacefully surrounded by his family at South West Acute Hospital and late of 17 Crannyfields, Omagh. Dearly beloved
Read More »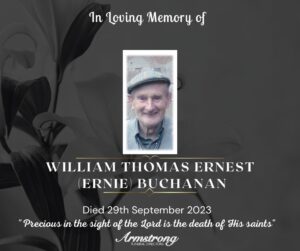 Death Notices
BUCHANAN,  WILLIAM THOMAS ERNEST (ERNIE) Peacefully at his late home, 50 Kirlish Road, Drumquin. Dearly beloved husband of Isobel. A devoted father of Drew, Ivan
Read More »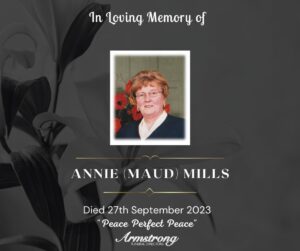 Death Notices
MILLS, (Née PATTERSON)  ANNIE (MAUD) Peacefully at Hillcrest Care Home and late of 19 Holme Road, Dromore. Dearly beloved wife of the late Lexie, devoted
Read More »
Professional and Dignified Funeral service and personalised memorials to leave a lasting memory of your loved one.
Feel free to contact us with any questions, comments, or enquiries and we'll get back to you at our earliest convenience.